SolidComponents™ Online CAD Viewer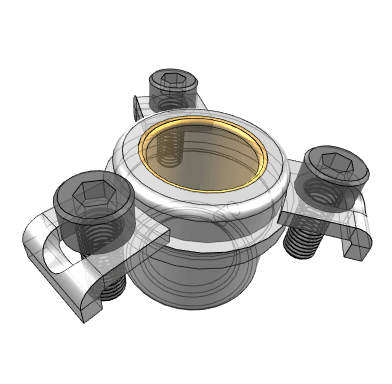 The Client
SolidComponents™, based in Halmstad, Sweden, provides an online catalog of engineering components.
Requirements
Create a WebGL-based viewer for users to interactively view 3D CAD models of products from the client's online catalog
Load files exported from SolidWorks
Realistic, physically-based materials
Wireframe and transparent viewing modes
Solution
I implemented the SolidComponents CAD viewer as a wrapper class around xeogl, an open source WebGL library I created for 3D visualization.


3DXML
I chose 3DXML as the viewer's file format, since it's the native SolidWorks format and represents the model exactly as it appears in SolidWorks.
Wireframe
For wireframe views, I'm relying on xeogl to auto-generate wireframe meshes from 3DXML's triangle meshes.
For each geometry, xeogl creates a second wireframe mesh that contains the edges between adjacent triangles whose surface normals deviate from each other by a given threshold, ie. the "hard" edges. This technique eliminates the "inner" edges, which are edges shared by triangles that are part of the same faces.
| | |
| --- | --- |
| Wireframe with inner edges | Inner edges eliminated |
(work-in-progress)
---